What are the different types of windows?
When it comes to choosing the windows for your property, the most likely things to consider are the price, the size and the material.
Choosing the material of your windows
While most people looking to save money nowadays tend to opt for UPVC windows, there are also the options of hardwood, timber and aluminium to consider too.
Hardwood windows needn't be too expensive, if you compare a set of top quality hardwood windows to cheaper UPVC windows, it is easy to see how good quality wood windows have a longer duration and easier maintenance than UPVC ones.
There is, of course, also aluminium to choose from, which is long-lasting, yet requires a larger budget than UPVC.
Once you have chosen between hardwood, timber, aluminium and UPVC windows, you'll need to consider the type of window you'd like to install in your property.
The right type of window can mean the difference between a property looking distasteful and insecure to a look that portrays security and great style.
So, what are the different window types? And how do you know which kind of windows will suit your property best?
Different types of windows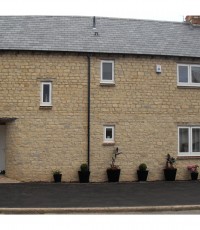 Casement windows
Casement windows are essentially hinged windows, operated by a crank.
Bay windows
A bay window is generally a large window that projects outwards from an exterior wall.
Double-hung windows
Double-hung sash windows have two sashes that slide up and down in a frame.
Awning windows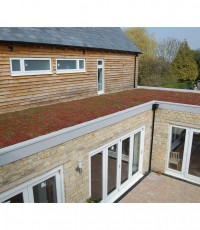 Awning windows are hinged at the top and open outwards. They are often chosen to ensure privacy in a property, or room of a property.
Picture windows
A picture window is a window that features just one large pane of glass, usually looking out over a nice view.
Slider windows (Sliding sash windows)
Some people find that sliding windows are more convenient and easier to open than crank windows.
Sliding windows are essentially window panels that slide horizontally, or vertically, to open and shut.
Stationary windows
A stationary window is a large, rectangular-shaped pane of glass, fitted in a wall to allow more light into a room or provide a specific outdoor view.
Transom windows
A transom window is a window placed above the transom of a door or larger window.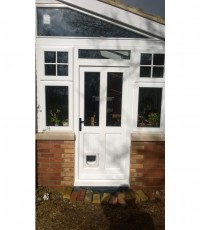 Buy different types of windows from Windows Doors UK
We've got numerous types of window available for purchase, including sash, box sash and casement windows. Why not view our gallery to discover images of different types of windows, to help you choose the windows that will most suit your property?