Have you thought about installing a conservatory in your home?
At Windows and Doors UK, we design and manufacture a large, high-quality range of windows and doors. Therefore, we find that our customers take pride in their homes and look for the ultimate luxury products.
But have you considered adding a bespoke orangery or conservatory to your home?
An orangery or conservatory can undoubtedly add a large amount of space, natural light and an open-plan feel to a property.
All of our orangeries and conservatories are manufactured from high-quality, sustainable-sourced hardwood and timber that is environmentally friendly and treated for durability.
If you have wood in your home already that you would like to match with your new orangery or conservatory, we can use our high-quality, Farrow and Ball paints to ensure the correct colour is selected.
Whether you are looking for a contemporary conservatory for a modern semi-detached family house or a traditional orangery for a country manor, because Windows and Doors UK are part of the Country Hardwood Group, we can help.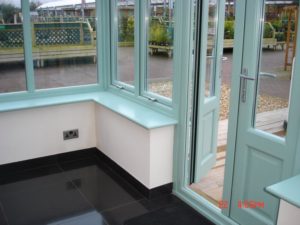 Introducing Orangeries UK
Our sister company, Orangeries UK, offers both traditional, or period, orangeries and conservatories, as well as modern conservatories. Because our range of hardwood orangeries and conservatories is so diverse, we can manufacture orangeries and conservatories to suit any type of property.
Modern conservatories tend to be a very popular choice for semi-detached, family homes.
Modern Conservatories
For more modern and contemporary homes, modern conservatories are, unsurprisingly, the more popular option and we can provide you with the means of installing a modern conservatory in your home.
As a general rule, modern conservatories tend to have more simplistic styles and minimalist lines, as well as far fewer additional features like glazed bars which tend to be an Edwardian feature. A lean to conservatory is a suitable style for a modern conservatory.
In addition, a hardwood timber or oak lean to conservatory generally makes for a stylish modern conservatory, and fits the property profile of a more contemporary home.
Bespoke orangeries and conservatories for a wide range of properties
We can manufacture both modern and traditional conservatories to your exact style and size specifications that completely suits your property and your unique personal taste.
What's more, for a completely bespoke and luxury product, why not purchase your windows and doors for your conservatory or orangery from Windows and Doors UK too?
For more information, contact us on 0843 886 7763.