Find some new internal doors at Windows and Doors UK, just in time for spring!
Are you preparing to spring clean your property this March? Perhaps you are giving your home a deep clean, refreshing some chipped paint, revamping your garden, redecorating your lounge or installing a new kitchen?
Whatever updates you're making to your home this Spring, some new internal doors could also significantly improve your property. Perhaps you live in a traditional home which would look lovely with some new oak doors, or you may be looking for some pine doors? At Windows and Doors UK, we firmly believe that having great internal doors is an essential aspect of a great property. Not only for energy efficiency and practicality, but internal doors undoubtedly have highly-important aesthetic value.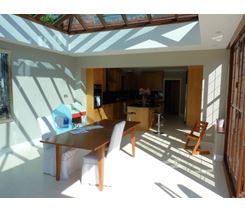 Take a look at some of our internal doors and see if they would work well in your property:
Pine Doors
Pine doors are a popular choice of internal door because they are well-suited to both contemporary and traditional homes.
Pine is a softwood that shares some hardwood characteristics, like durability and longevity. The pine doors from Windows Doors UK are made to the highest quality and are highly-functional, and also offer a high-quality, luxury aesthetic that everyone will love.
Oak Doors
At Windows Doors UK, we manufacture the finest oak doors, made from sustainably-sourced oak wood. Our oak doors are high-quality and offer the ultimate in luxurious living, adding class and prestige to any home.
Timber Doors
Timber is probably the oldest material used for doors, and is a sensible, classic choice for your home. Not only is timber a strong, secure, and environmentally friendly material, if timber is properly maintained, it will last longer than uPVC, aluminium or composite doors (and it looks much nicer too!).
Our timber doors are manufactured using the latest technology and, at Windows Doors UK, you can be assured that you'll receive a quality product in everything we manufacture. Because we have made significant investments in the design tools and machinery that we use in our joinery, all of our timber doors (and indeed all of our products!) are manufactured on a computer-controlled automated router for repeat precision and success.
So why not choose your new internal doors from Windows and Doors UK in time for Spring?
At Windows and Doors UK, we are proud of the fact that we keep our prices low and our quality high. After machining our internal doors, each door and frame is assembled, painted, glazed and quality checked by hand.
As a result, you can be certain that you'll receive a top-quality door at the best price.
If you would like some further information on the internal doors from Windows and Doors UK (or to find out more about any of our other products!), then take a look at our website, or give us a call on 0843 886 7763.